Certificate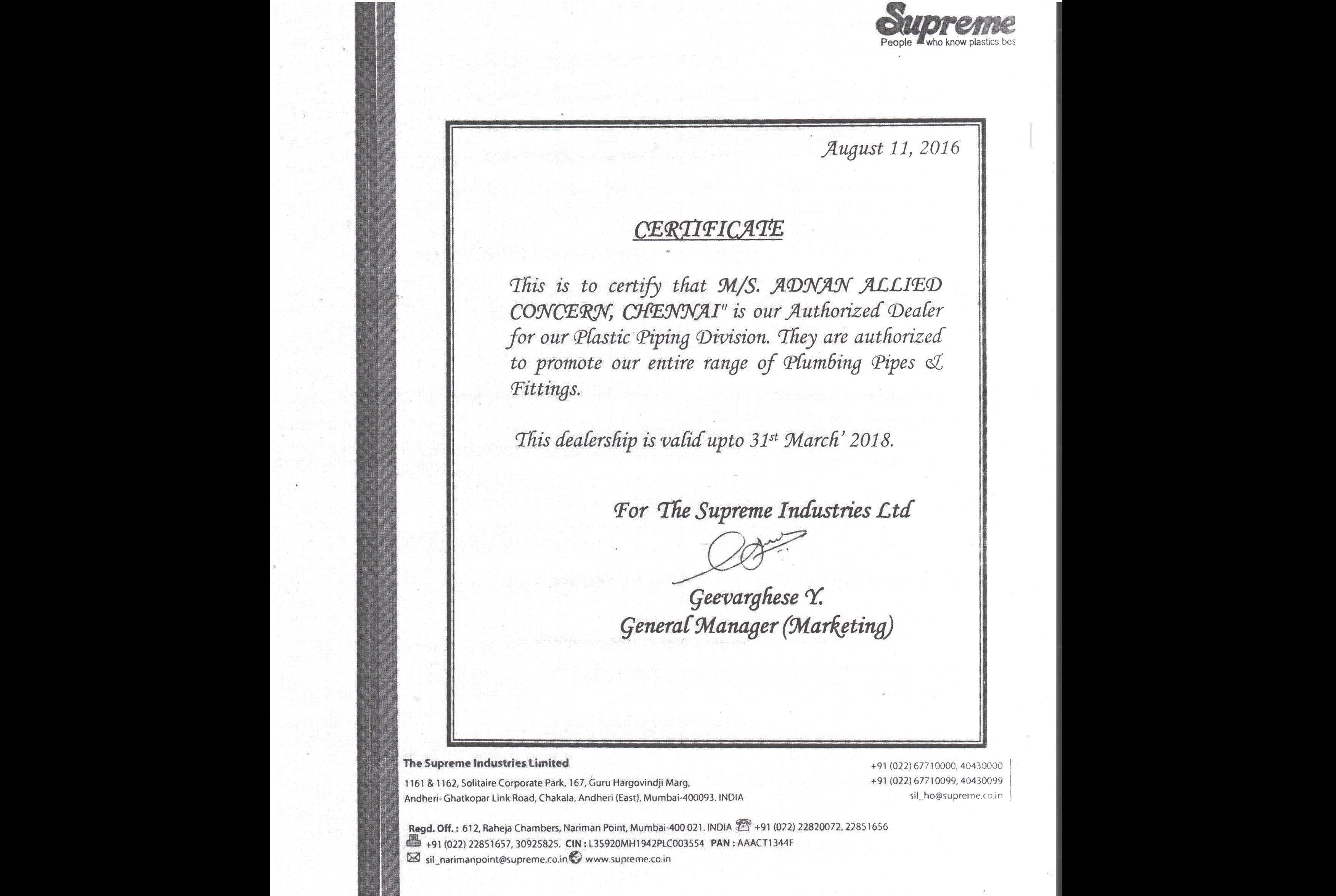 Dealers and Stockist:
Adnan Allied Concern ( Chennai) established in the year 2008 with the sole purpose of providing piping solution to all the major Builders, Fire Fighting Contractors, Plumbing Contractors , HVAC Contractors & Consultants

We are Dealers and Stockist of following items :


From the Directors Desk:
At the launch of our new website, we thank our valued customers whose continued patronage and confidence in our products inspire us to extend the best of services and enable us to provide value for their money.

Beeing dedicated to plumbing and sanitary solutions, we are focussed at addressing the needs of our customers through rugged, efficient, reliable and reasonable solutions and products.

We are committed to total customers satisfaction by identifying their needs and translating then into quality products & dependable after sales & services.

The foundation of our business stands on prompt customer services, quality products, straight forward business ethics and ready availability of products.

Our sole and primary objective is to bestow best value of our products to the hard earned money of our customers for years and generation to come.

We therefore , seek continued patronage of our valued customers, co-operation of our manufacturers and thank our well wishers who have contributed to the growth of the organisation.
Profile
SHABBIR EM
MANAGING DIRECTORS
9884172337
HUZEFA EM
MANAGING DIRECTORS
9840400159
ABEEZER EM
MANAGING DIRECTORS
9884153202
Our Team
In our team, we have appointed highly efficient employees in order to complete the bulk order in time. Our teammates are well capable of switching in between different tasks and activities that belongs to their working areas without leading to any kind of delay.
Our workers responsibly take up responsibilities and never make any kind of compromises while serving our customers. It is their efficient support that has driven to the zenith in industry.
Quality Assurance
We have created a distinct identity of our own due to the superlative quality of our products and reliable customers support that we are consistently trying to improve through our ethical approach.
Our TQM facilities allow us keep our product tray up-to-snuff and approved on various stringent norms thereby making our customers feel satisfied.